I have a tendency to over plan, lots of ideas, lots of lists (love lists) and then lots of not doing anything about it! Still, that hasn't stopped me in the past and nor will it now! So, here's what I have planned for my sewing table in the upcoming months.
1.
A
Crescent Skirt
. I'm a little scared of this pattern because it is described as Intermediate...AAAH! I am so a beginner. However the brilliant
crescent sew-along
makes it look do-able so I'm going to give it a go. Having colour co-ordinated my wardrobe recently, I discovered I own a tonne of black clothes, white clothes and black and white clothes. I mean really, the top row of my wardrobe looks like a black and white movie. I don't mind this really (and I do have a second row full of colour), I think the monochrome look suits me and I want to make something that will fit right in as a handy basic to go with it all (and with my ever growing collection of dusky pink tops, mega addiction alert). So I'm going to make my first crescent in a pale grey denim (and probably line it in dusky pink!) much like the fabric on
this
FCUK skirt.
I'm hoping to find a nice lightweight denim so that the skirt has some movement in it. We shall see what my next fabric hunt throws out!
2.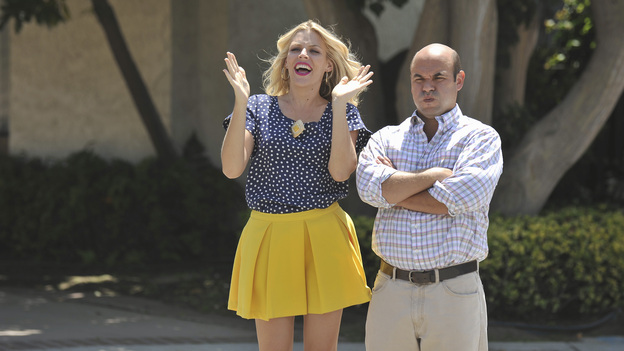 I love Cougar Town. I really do and this outfit that Laurie (not the bald fat guy) is wearing is my new favourite and I plan to
steal
re-create it. Just today Marie from
A Sewing Odyssey
wrote a
post
about
Salme Sewing Patterns
and lo and behold, right there was the perfect pattern for the blouse.
You can buy the pattern here.
A big thank you to Marie for bringing this to my attention. I'm sure it won't be too difficult to find a navy blue and white polka-dot fabric?
I haven't found a pattern for the skirt (yet) and to be honest the shape of it doesn't rock my world, I'm more in love with the pairing of the navy and the yellow, so perhaps another Crescent? Who knows, only time will tell. Speaking of yellow, blue and Laurie, this weeks episode of Cougar Town featured another epic pairing:
Adore the yellow and the denim. I won't add this outfit to the list just yet but I might have to find myself a denim jacket to go with the yellow mini sundress I already own. Charity shops here I come...
Alice x